| | |
| --- | --- |
| | JESS Author CV |
Kevin Murray
B.Sc.Hons., Ph.D. (Cape Town, South Africa).
Kevin has disappeared into the veld and no longer contributes actively to JESS development. The following details are provided in recognition of his many seminal contributions to JESS, especially in its early design and construction.
Three years post-doctoral research experience at the University of Wales (Cardiff, U.K.), 13 years research and consulting experience at the CSIR (Pretoria, South Africa) and 13 years as self-employed researcher and consultant (Insight Modelling Services, Pretoria, South Africa).
Specialist experience in the application of chemical modeling to aqueous systems in hydrometallurgical processes, tailings dams, effluents and natural waters (soils, rivers, wetlands, etc.). Extensive experience in the application of systems thinking and modelling (conceptual and quantitative) to a wide range of problems involving hard and soft issues.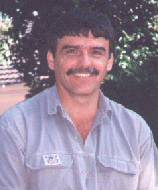 Then and now